Moving an aging family member into an assisted living facility can be difficult. Many loved ones express concern about the level of protection and security offered to their aging parent or grandparent. In many cases, medical conditions can complicate the matter, as the resident may need help with daily activities and must depend on the attention of the caregivers at the adult residence. That is why is essential to consider the level of accommodation and care your senior loved one will enjoy. But in addition to those concerns, families often wonder about assisted living safety – will their loved one be ok away from home?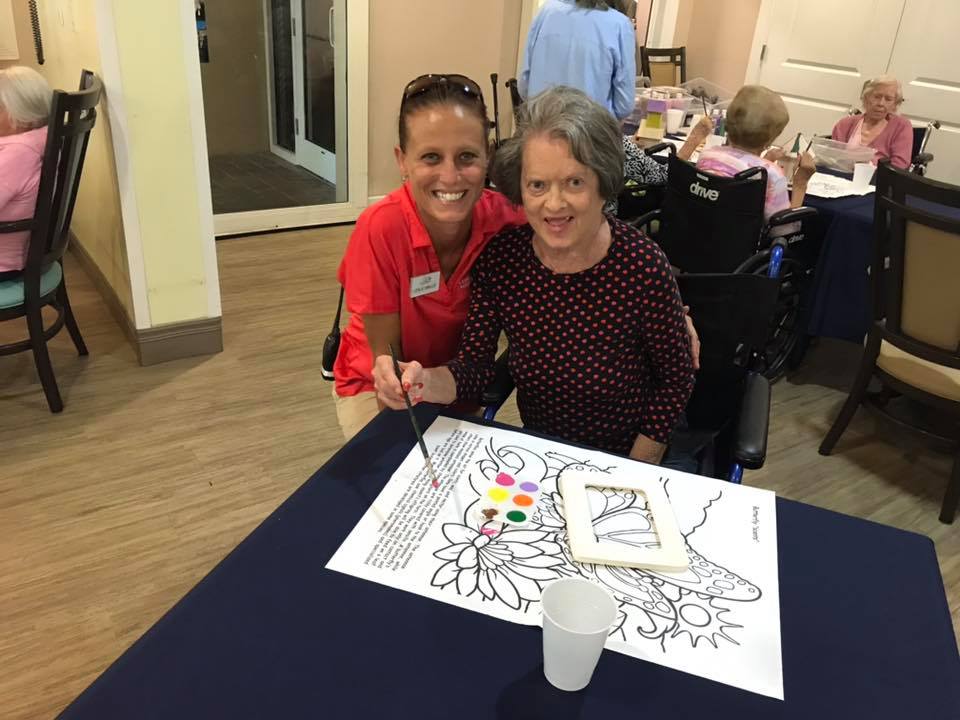 The good news is that most assisted living communities represent the safest environment for your loved one. They are imagined and designed with the unique needs of senior citizens in mind, permitting them to offer a residence that feels like home – but minimizes many of the inherent dangers of living alone.
Did You Know? A national survey discovered that 91% of adults with a parent living in a retirement community (including assisted living and memory care centers) were pleased with the physical security measures provided by the facility. The research also revealed that 60% of elderly who live alone feel unprepared for an emergency, while 93% of adult living residents were confident that an adequate plan was in place to keep them safe.
What features and amenities create a safe living situation for seniors?
24 x 7 Staff Members: As care needs increase, it can become challenging for family members to handle the responsibility of their loved one's needs and keep up with their own responsibilities. Assisted living residences alleviate that burden and permit seniors and their loved ones to live without the anxiety that the workload can cause. Assisted living safety is largely due to 24-hour on-site staffing for any need that arises, no matter when.
Safety Features in Rooms: Rooms and communal areas in assisted living facilities are designed and developed to meet the needs of the senior population who will reside there. These considerations include measures to prevent trips, falls, and other hazards, such as sturdy railings on all staircases, grip bars in bathrooms, and non-slip surfaces on hard floors and bathtubs. On-call buttons worn around the neck to call for assistance may also be provided. Halls and doorways provide ample room for walkers and wheelchairs.
Support for ADLs – Activities of Daily Living: Activities of daily living are those activities a person must do to care for themselves adequately each day. The list includes eating, bathing, dressing, and using the bathroom. Although typically taken for granted, when an individual grows older or develops a chronic condition, it can affect their capability to perform one or more of these activities on their own. The care provided at assisted living facilities is personalized to the needs of each resident so that they can live as safely and independently as possible – without sacrificing hygiene or health.
Continuous Heath and Wellness Monitoring: Growing old can be challenging, and physical changes or medical issues can make living independently difficult. When this realization sets in for senior adults, depression and other mental health conditions may become a risk. An assisted living residence can provide families with the needed peace of mind, as the staff continuously supervises seniors to identify any changes in their physical and mental health. They can then call in the family and the appropriate medical professional for additional evaluation and assessment. Experienced staff will also be aware of the early signs of age-related conditions, making it more likely that a condition can be caught and treated early on.
Assisted Living Safety – Wandering Prevention
Security is vital to the overall well-being of seniors, and dementia can add an added danger. Seniors may suddenly or unexpectedly alter their behavior and start to act in high-risk ways, such as walking outdoors in a late-night storm. Assisted living safety includes locking doors to keep unauthorized individuals out as well as preventing residents from leaving the facility without anyone's knowledge.
Cameras are typically installed in hallways and at exit doors, and onsite staff monitor residents – both features that are very difficult to simulate at home.
If you are worried about the safety of your loved one in an assisted living residence or memory care center, set up a tour at A Banyan Residence. We would love to show you how we care for our residents every day.