Fall may look a little different here in Florida, but now that October is here – it's time to decorate! Just because you live in an assisted living facility does not mean that you can't be seasonal and festive. Whether fall ambiance or Thanksgiving chic, here are several simple decorating tips to make your room warm and cozy for the season!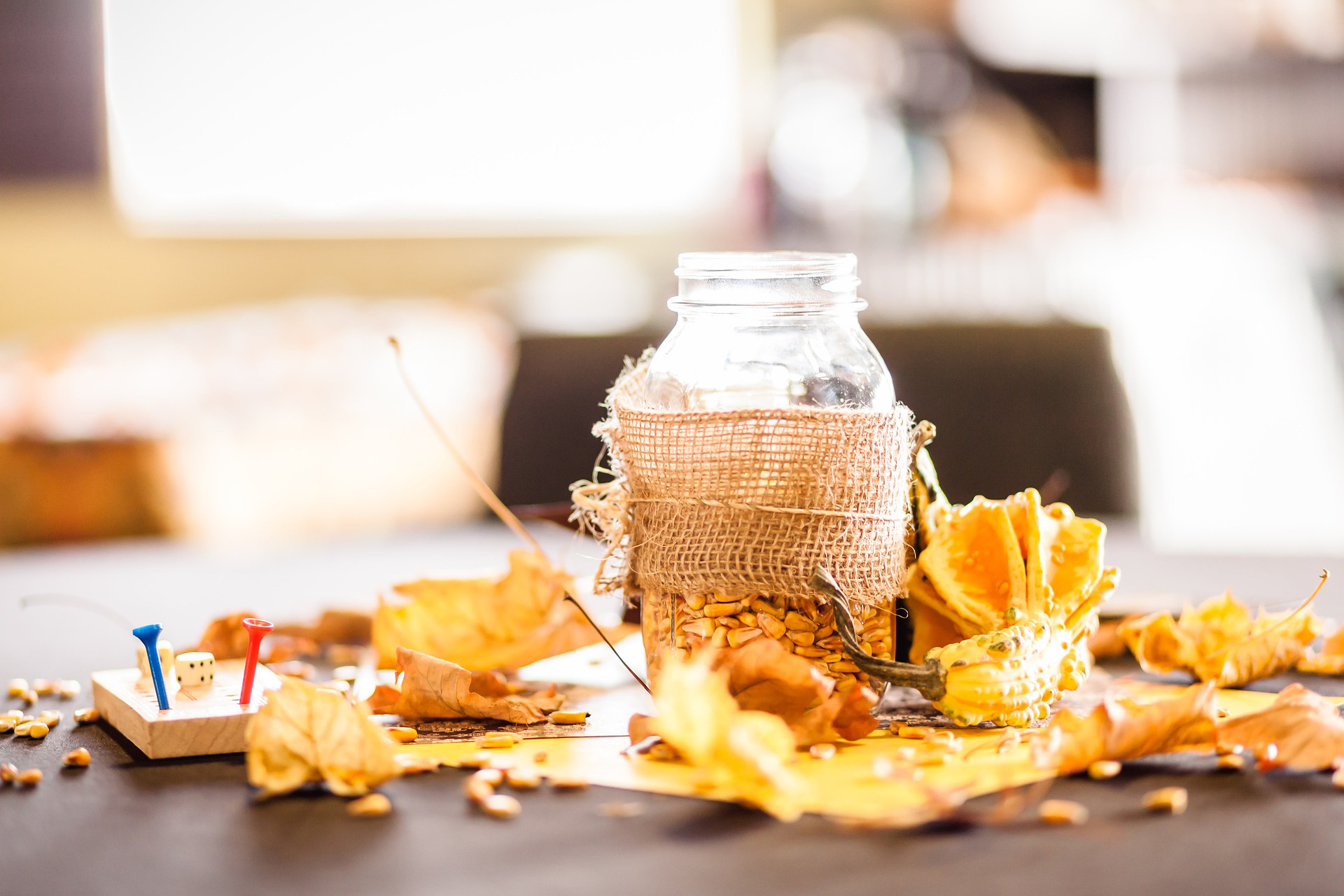 If your loved one lives in assisted living or memory care and always loved the holidays, decorate their room with them! It can be a great activity and bonding experience.
Orange Details and Accents: Nothing says "autumn has arrived" more than festive orange blankets and accent pillows. Designing a perfect fall mood can be as easy as buying a throw blanket or purchasing a few perfectly placed pillows. The color orange exudes warmth, friendship, and a cozy atmosphere – and can completely transform your room.
Placemats & Centerpieces: If you have a small dinette in your apartment, you can add red, yellow, orange, or brown placemats. Feel free to mix and match your colors. You can also make a beautiful centerpiece with a few craft store basics – a straw cornucopia, some small gourds, and red berries, for instance. If you have someone to take you to a pumpkin patch or local farm, you can pick up some real, natural ingredients. If you do not have a dining space in your room, round up some friends and decorate the main dining room!
Candlelit Glow: Nothing adds warmth more than a candle, but a real flame is too dangerous in a group living setting. Look for battery-powered candles which can be placed around your apartment. Put them in decorative glass or a plastic pumpkin decoration. You can also ask someone to help you change light bulbs to a warm glow or to add string lights if allowable at your facility.
Chalkboard Sayings: Craft stores have become more seasonally specialized over time, and there are often chalkboards with fall-themed borders. Hang in your apartment and add favorite sayings, seasonal quotes, or even simple fall recipes, such as cinnamon tea.
Grandchildren's Crafts: We've been displaying our kids' and grandkids' artwork on the refrigerator throughout our lives. There is no reason to stop now! Ask your grandkids to help you decorate by "Commissioning" some artwork from them. Fall artwork can easily be replaced with holiday artwork once the season changes! You'll love getting their creations, and they will love sending you their handiwork.
Sentimental Items: If you had some favorite seasonal decorations when you lived in your own home, bring them into your new room! Perhaps those items were placed into storage or given to a family member. Do some digging around to bring some of your more cherished memories into your room to make decorating more personal.
Whether you are shopping for your room or a relative shopping for your loved one, remember to read the assisted living facility's guidelines before purchasing any decorations. The most important aspect of anything you bring into the room is that it is safe and cannot cause any harm.
Your assisted living facility may have arts and crafts classes to create seasonal decorations. If they do not, ask to set up a crafting session! It will be an excellent activity that the whole community can enjoy.
At A Banyan Residence, we are committed to the overall health and wellbeing of our residents. In the fall season and into the holidays, this includes making their room as comfortable and cozy as possible. Call today for a tour or more information.